Melissa Vaughn Rose
Peace Initiative - Gardening Educator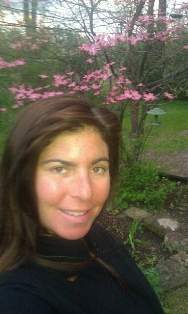 EARTH SPIRIT
"A comprehensive guide to our journey
of the seasons through spiritual gardening"
Gardening is for each of us here and now. It is a way to change a little spot on this earth while diving into our own spiritual journey along the way. Gardening is for everyone, beginner or experienced. There is no judgment or competition; it is for the simple pleasure of watching before your eyes a miracle on this earth take place. You can fulfill your needs for food from your garden or use the flowers you grow in a vase, or replenish the earth with new nitrogen by planting a cover crop like peas and oats. We can use knowledge to create a revolution that can shift a conscious paradigm in this world from a small scale to a large scale change. By weaving gardening into our spiritual practice, we can reflect upon how each season has a spirit of its own. Spring is full of energy, summer offers vitality and stamina, fall brings gratefulness and appreciation, and winter has a sense of abstraction and hibernation.
With each month of the calendar and throughout every week there are spiritual aspects in our own lives as well as with the change before our eyes in nature that can help us discover our spiritual journey on a whole new level.
Starting a journal is a key part to this practice. It will allow you to review and reflect on how you and your garden are changing and growing throughout the year. It will also allow you to remember what worked, when you planted what and what you would possibly change or do the same for years to come.
Mirror Image…. Reflect upon different moods and auras in our own lives and how we feel during each month. Compare to what is happening in your garden.
Garden Practice…Reflect upon gardening activities and how they parallel the season or month. Also take notice how these activities make you feel.
Gardening Benefit… Take note of the benefits of you are gaining through each season, crops, harvests, etc. Also the benefits of how you feel after harvesting and eating the fruits of your labor.
Garden Expression… Link the discovery of the outcome of our gardens with the symbolism of goals within our lives.
Prayer… offer a prayer to the Creator ….for the time of year…for your crops…for the bees…for yourself…you can make up your own offering, or I will include some in my monthly writings of examples of my spiritual practice.
Having awareness of these five elements will teach you about yourself and about your garden. I look forward to reading your writings and reflections during each month of our practice.
January...Take the time to be outside and use physical endurance throughout this month.
February….Journey through spirit.
March…Psychologically strengthen your spirit through gardening.
April….Protect our environment….learn to use everything in your space to recycle the earth.
May…Enhance your garden with flowers and herbs…enhance yourself while doing this.
June…Resource conservation…and spreading love into yourself and throughout your garden.
July….Quality of life…and what that means to you.
August….Harvesting…Music…and what your garden tells you.
September…Teach to your neighbors all you are learning…spread and share the fruits of your labor…to teach and to celebrate.
October…Take it all to a spiritual global level.
November…Spread the word through world peace….seek out insightful opportunities and ways to grow spiritually…take a class you never thought you would for the first time…go to a drum circle on the full moon…camp in the wilderness…look inward…be and live.
December…How you are saving money by growing your own food…and how much better your health will be.
Melissa Vaughn Rose
Conscious Gardening